We offer a wide range of art and design courses including photography, digital design, printmaking, painting, drawing and pottery as well as more specialist courses such as an art and design diploma. We have courses for beginners, experienced student as well as mixed ability sessions. We also run family learning for parent and child working together and courses for young people aged 14 to 17 years old.
**Our May 2022 Courses are now LIVE!**
(Book NOW to avoid Disappointment)
May Half Term 2022 descriptions and Course Codes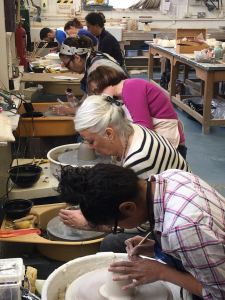 Please place your course/s in your shopping basket where you will be prompted to register using your email address as your User Name
Photography & digital design
Our digital tutors have years of industry experience which gives our students a unique learning experience using Adobe software including Illustrator, Photoshop and InDesign. Learn how to use the tools, palettes and menus in the various software programs to create original artworks.
Specialist & holiday
Our specialist and holiday course change each term so have a look at this section to find out more about what's on offer at the moment.