Spring Term 2024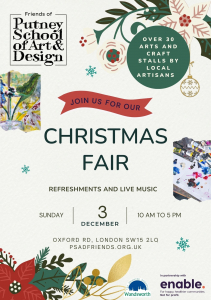 Please feel free to come to our PSAD Christmas Fair, all welcome!
Our Spring 2024 courses go Live on our website from 10am, Wednesday 15 November 2023 – in the meantime please see the full list of autumn courses below
Browse through our different course categories on this page, or find our full offering via the link below. Simply add the courses to your bag and get those paintbrushes ready!
February 2024 Half Term courses coming soon…
Please place your course/s in your shopping basket where you will be prompted to register, using your email address as your User Name. If you experience any technical problems with the online enrolment system, please phone us on 020 3959 0110 and we will take your booking over the phone.
Photography & digital design
Our digital tutors have years of industry experience which gives our students a unique learning experience using Adobe software including Illustrator, Photoshop and InDesign. Learn how to use the tools, palettes and menus in the various software programs to create original artworks.